Strategic digital transformation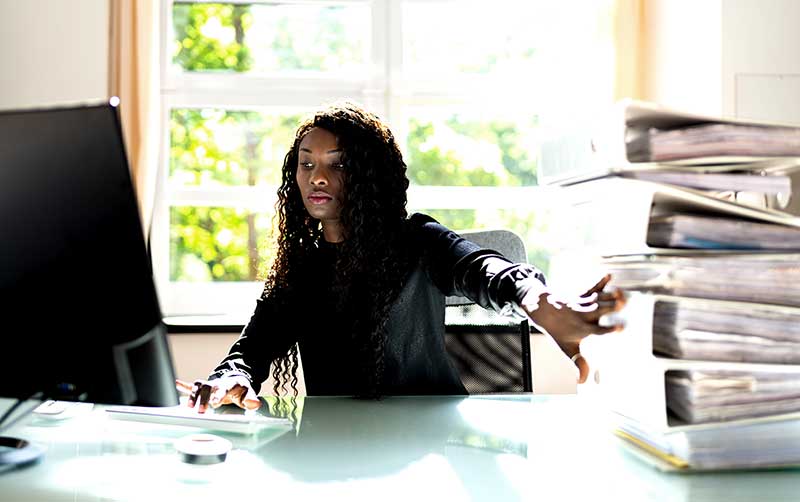 By: Sach Gajree
Head of Transformation
Strategic Transformation – be that in operating models, value creation, evolution or end-to-end digitisation : adaptability is one skillset that is a must have.
In a world where every-day brings new, different, and often diverse sets of challenges to the forefront, individuals are being asked to flex continuously, to adapt skillsets and modify behaviours to these new situations as they arise, often having to let go of previously held skills which helped them get to where they now are.
We appreciate that the world in which we work today is wildly different from the world in which we will work tomorrow. This is why a significant part of Kyocera's efforts concentrate on supporting businesses to make that transition easier whilst still tackling the more complex aspects of successfully helping business to deliver strategic transformation and unlock their business' potential. 
A critical element of unlocking business success relies upon an organisation's ability to translate strategy into actions. Actions that may seem disparate individually and of nominal immediate impact, but when realised as a series or as a combination – the whole is always greater than the sum of its parts. This is where adaptability becomes crucial.
We at Kyocera embed this thinking at our core and hence our focus is on enabling our customers to turn disparate information into shared knowledge and in supporting their teams to excel at learning and increasing adaptability. With our professional expertise and our culture of emphatic partnership, we help organisations transform processes to drive change and unlock innovation.
Accepting that transformation is the strategic deliverable is the best starting point.
A high-level organisation view, setting out a Big Hairy Audacious Goal (BHAG) enables a company-wide discussion about how on earth that is going to be achieved. During the course of those very heated conversations will arise the numerous hidden challenges and blockers that obfuscate, derail and negate successful pursuance of stated BHAG.
Given the implicit level of uncertainty when pushing forward with a BHAG, especially within a landscape that is applying significant and sustained pressure from all directions – PESTLE, drives most thinking about actions that fall back into "tried & tested" as well as into "quick wins" to buy or create more breathing space. More often than not, although these actions can deliver small successes, the effort and co-ordination to focus on these has been at the expense of that something else that would be more closely aligned towards delivering the BHAG.
This is one of the core reasons why adaptability is key and this is where transformation specialists come into their own.
The transformation specialists will corral all those hidden challenges & blockers and layer them into the business landscape, organisational structure, operational flows and system architecture. It is from this view that the BHAG path can then truly be envisioned.
Identifying the overall path or paths forward that truly align challenges, quick wins, medium term progress and BHAG delivery as well as then being able to calculate Critical Paths and prioritise key actions and activities is crucial.
This is how transformation becomes organisational design.
Designing out a programme of operational, structural and cultural work streams and projects help the wider business to flag which blockers are dependencies and or potential show-stoppers and must be tackled from the outset.
It is at this point where efforts will be placed onto activities that offer the business very limited short term benefit but are critical to delivering the longer term BHAG.
Shaping the way a business operates for the future of work is paramount and requires facilitated discussions using modelling like Burke-Litwin or Galbraith to engage leaders and guide them on a structured roadmap for successful progress. Kyocera specialists are adept at supporting businesses in design thinking and workforce planning as part of our transformation efforts.
All this whilst supporting operational integrity and business performance…
This is how transformation becomes Programme Management Office (PMO)
Each workstream requires both programme and project support be that agile or otherwise – including requirements analysis, scoping, speccing & sprinting.
They will liaise with the Subject Matter Experts to flag out what that means in terms of Software Development and Solution support – something that we at Kyocera are specialised in guiding, developing, and delivering.
There will be a requirement for sponsorship, cross functional support, and ownership. Many will have multiple smaller workstreams within them – some focusing on improvement items, some on process automation, some will be on architecture whilst others will be on ways of working. All will require both external and internal Customer & Supplier insight as well as feedback and remediation to ensure that the Customer remains at the heart of any recommendations.
This is how PMO becomes change management.
Whilst all of this is underway…little by little, teams will begin to question why they are doing things the way they are doing things…in doing so, they propose solutions which will have an immediate impact but not necessarily align back to the BHAG.
The voices for development support will intensify. The shouts for system change become somewhat deafening.
Facilitating an organisational change programme from an unbiased position often helps businesses to understand embedded resistance over change disruption and can support separation of efforts between fit for now and fit for the future.
At Kyocera, we appreciate the challenge businesses face in mediating between current vs emergent priorities and on guiding decision making on efforts that align and that help to bring more clarity to ambiguity.
This is how change management becomes continuous improvement.
In betwixt all of this, a few specialist voices will support the business with directed Lean/Six Sigma support – guiding & teaching teams about problem definition, root cause analysis, process diagnostics, impact assessments & success criteria.
Whilst other similar voices will engage across teams to walkthrough business wide prioritisation & negotiate the "what's in it for me" vs "what's in it for the business" vs "what's in it for the Customer"!
Knowing where efforts need to be directed to drive the overall business transformation is key in supporting true customer generated improvement and this is something Kyocera specify from the outset of discussions.
This is how continuous improvement becomes cultural revolutionist.
Supporting all of this…are those voices highlighting the adaptive nature of the culture of the business and the necessary steps that help the business to accelerate into and through this transformation rather than impede or derail. Working across all hierarchies to enhance skillsets and behaviours that support inclusivity, empowerment and development using and teaching coaching and mentoring.
A programme that solely focuses on process automation or element of digitisation can only take you part of the way on your journey to achieving strategic transformation. Gaining the knowledge on understanding current cultural influences and their impacts, directly addresses opportunities to realise greater acceleration as well pre-empting any potential pitfalls or obstacles from a people perspective.
This is how cultural revolutionist becomes transformation
Weaving all of this together and facilitating the critical thinking within the business to achieve more and more impactful deliverables along these paths whilst increasing the volume of ongoing conversations….isn't that at the heart of strategic transformation and true adaptability?