Taking the administrative burden of managing Firewall
devices from your internal IT departments.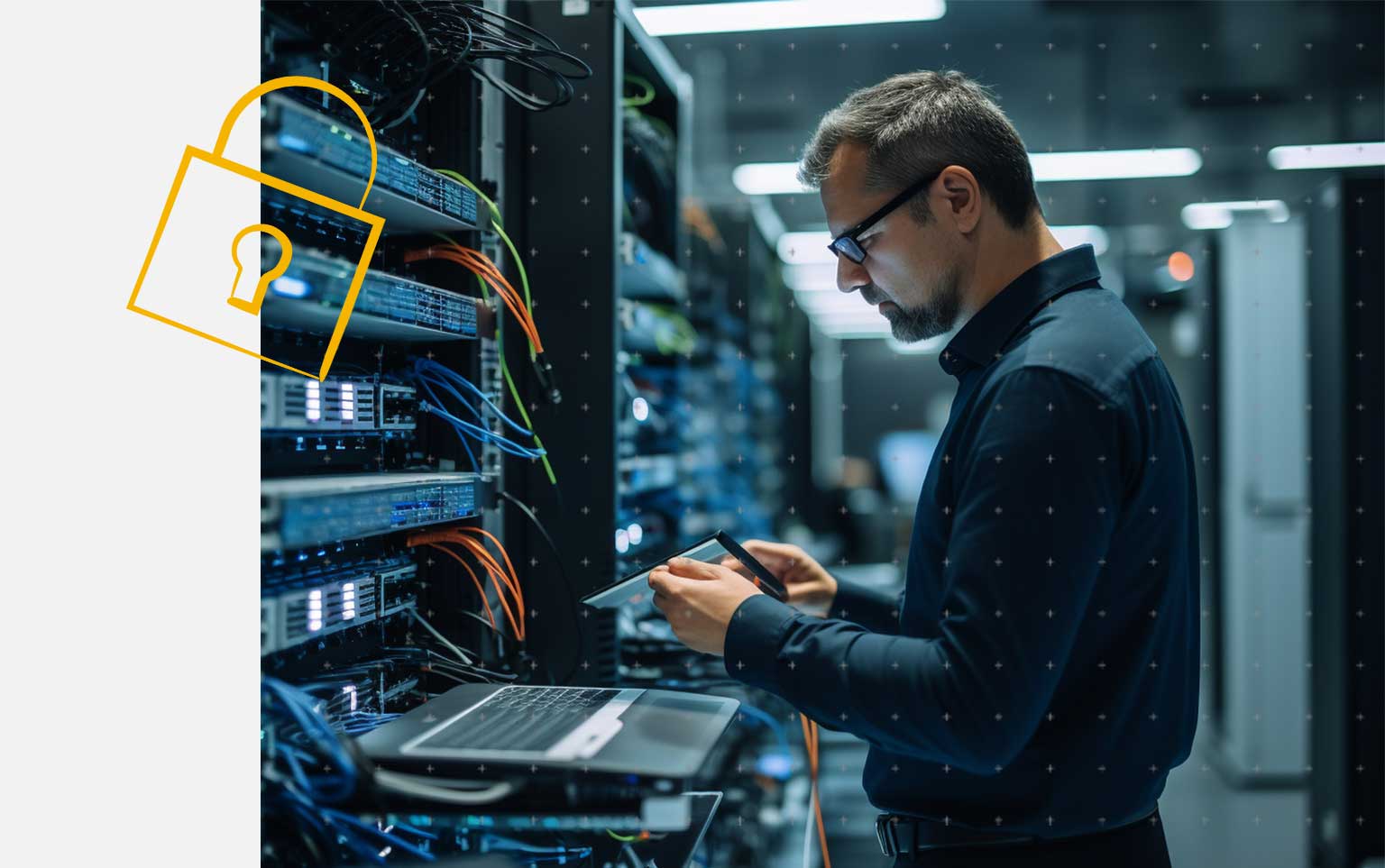 Our Managed Firewall service offers a secure and cost-effective solution, that pro-actively monitors and maintains the integrity of the firewall backed by our 24/7 Service Desk.
The diversification of IT infrastructure and constantly evolving security threats combined with the drive within businesses to reduce IT spend whilst providing more secure and flexible working practices, has led to the adoption of a managed firewall service becoming a core business strategy.
Managing your own firewall.
Cyber security threats are on the rise, staying ahead of these threats is a thankless task.
Setting up a firewall is a specialised job. many businesses are vulnerable due to errors in configuring their firewall.
It can be hard for most companies to update and maintain their firewall especially if they have no IT team or experience.
Firewalls have constant updates that must be applied to stay up to date and secure.
Of outsourcing your firewall management to Kyocera Annodata
Our Professional Services division has the certified and experienced people to not only provide delivery installation and configuration of Firewall Appliances to vendor specific optimal standards, but can also utilise their extensive knowledge to complete discovery reviews of current Firewall Perimeter Security to advise on best practice adoption and identify Gap Analysis to support any business case for change.
Our "Customer First Principles" are delivered through our UK based Customer Operations Centre, providing security confidence to customers that Perimeter security is maintained to the highest standards and supported. Potential threats are identified rapidly with appropriate remedial actions initialised, based on pre-approved actions.
This Operations Service Centre is available 24x7x365 to provide service and is resourced by accredited specialists to deliver the highest levels of appliance security through the adoption of ITIL governance standards.
To further provide confidence in the security services provided by Kyocera, as an organisation we also retain ISO27001 and Cyber Essentials Plus accreditations.
Unlike Support Services, Managed Services are Pro-Active and are provided to not only retain the integrity of the Firewall through completing scheduled maintenance tasks, but also identifying issues/problems prior to them causing impact to the business.
Unlike other outsourced services of this type, potential issues/problems are not only identified and reported but are escalated within the Operations Centre to enable a rapid response and resolution with defined service levels.
Our Managed Firewall Service
Firewall devices can be deployed as either Software or Hardware versions and in a variety of different types to address the functional challenges of any network. These types of firewall include, Packet Filtering, Proxy, Network Address Translation (NAT), Cloud-based, Stateful inspection, Unified threat management (UTM), Network Segmentation and Next Generation (NGFW).
To ensure the right level of service is provided to support a range of business needs, Kyocera Annodata offer the following services options to ensure that services are provided at the appropriate level to meet both the internal customer capabilities and requirements.
For organisations who do not require a Pro-Active managed service and have internal resources available to provide direct Support, but do have an identified specialist resource available for.
Expanding the "Escalation Service" through the addition of Monitoring, with any identified issues or problems within the Firewall being reported back to you.
Enhance "Monitoring and Reporting" with identified issues or problems being triaged and potentially rectified by Kyocera.
Maintenance also includes the application of any "Emergency and Critical Patches", on release.
Consolidation of actions contained within the other services. 
Kyocera also takes responsibility for providing all services to the appliances, including administration tasks such as Moves, Adds and Configuration Changes (MAC's).
A fully managed SD-WAN service, to give organisations the visibility, agility and control they need.
Monitoring all aspects of your network, identifying problems and quickly troubleshooting any issues.
Secure, high-performance and multi-user Wireless Local Area Networks
The breadth of our portfolio means we can provide end-to-end managed services right across IT infrastructure.
We provide peace of mind with a complete solution to meet your needs.
We design, deploy and optimise the system to fit your business requirements.
Technology is constantly upgrading, and it's not always easy to keep up with the changes and define the best working systems for you.
That's where our expertise comes in.