Delivering cloud solutions that meet the demands of the modern working environment.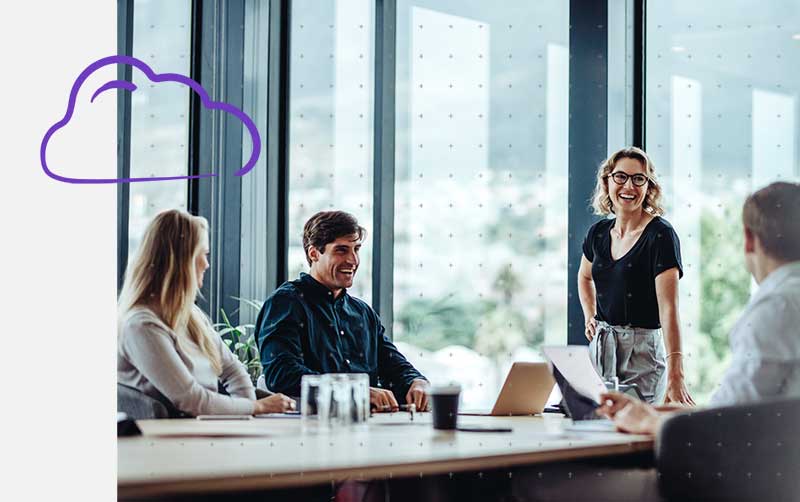 Cloud is a game-changer, revolutionising the way businesses operate and their potential for growth.
With our scalable, flexible, and cost-effective solutions from world-class partners, we can offer a myriad of advantages that empower businesses to streamline operations, enhance productivity, and foster innovation like never before.
Hosting in the cloud has been found to reduce carbon emissions by 98% compared to on-premises alternatives. This can have a significant impact on a businesses carbon footprint and enable them to meet their carbon reduction goals.
All of our partners have strict goals in reducing their environmental impact by investing in and sourcing renewable alternatives.
Moving to a cloud-based solution removes the need for sourcing core materials to build on-premises hardware as well as the disposal of old devices. 
Cost effectiveness is one of the biggest benefits of moving to a cloud solution. Businesses no longer need to build and manage in-house data centres with the associated staff, energy and licensing costs. The cloud is the perfect place for data. In addition, pricing is often consumption based, meaning businesses only pay for what they're actually using, and can add or remove capacity as and when needed.
Businesses also do not require as many internal resources and experts as SaaS allows companies to buy solutions off the shelf. This reduces recruitment, training and management costs and allows smaller companies to compete with established players.
Cloud computing gives your business more flexibility. You can quickly scale resources and storage up to meet business demands without having to invest in physical infrastructure.
Companies don't need to pay for or build the infrastructure needed to support their highest load levels. Likewise, they can quickly scale down if resources aren't being used.  
One of the biggest advantages of cloud computing is its ability to provide anytime, anywhere accessibility using any device. Teams can access corporate data and applications from any location at any time using any internet connected device. This boosts productivity by enabling employees to work flexibly and collaborate more efficiently.
"With a serviced, scalable platform for growth, we've underpinned the foundations of our business strategy, and have found a partner to support UCC Coffee's growth. "
Whether it's a single project or a transformative business programme – we have the people to support you from start to finish. Developing and delivering an action plan that will ensure the success of the appropriate Cloud solution.
We work collaboratively with you to architect a solution that meets the current requirements, whilst allowing for future flexibility needs within your business – a solution that can be scaled up, down, or out to evolve with your ever-changing needs.
Once the design is agreed, the construction of your solution can be undertaken. Our accredited professional services will ensure it is suitably integrated, provisioned and communicated with minimal business disruption or impact.
We don't use call handlers – we employ UK-based, fully trained technical specialists to deliver our service desk capability which is available on a 24/7 basis. We monitor, manage and maintain your Cloud Environment to optimise your investment.
Our managed public cloud solution allows us to monitor, manage and develop your cloud services as you go, helping you to optimise your investment. We enable you to create a future-proofed cloud strategy, ready to flex up and down.
For highly regulated industries such as financial services or the health sector where compliance of cloud data is audited, private cloud ensures applications are easily sourced and remain secure in the event of any dispute.
Hybrid Cloud combines public cloud and private cloud environments by allowing data and applications to be shared between them. This allows businesses to scale services back and forth between their own infrastructure and the public cloud.
Backup and Disaster Recovery
Our fully managed service designed to make backing up and restoring Software-as-a-Service (SaaS) data quick, easy, and cost effective, without compromising on data integrity and compliance.
Enables your workforce to embrace flexible methods of working by giving them access to their unique desktop environments over a secure network, remotely. Significantly reduces business running costs.
The breadth of our portfolio means we can provide end-to-end managed services right across IT infrastructure.
We provide peace of mind with a complete solution to meet your needs.
We design, deploy and optimise the system to fit your business requirements.
Technology is constantly upgrading, and it's not always easy to keep up with the changes and define the best working systems for you.
That's where our expertise comes in.